.: Ghosts of the Galleries
There have been many sightings and reports of ghosts at the Galleries of Justice going back decades. This is not surprising, considering how the site was used for the centre for crime and punishment since Saxon times in Nottingham.
The Galleries of Justice has been voted the number one Most Haunted location in the UK by HH & Spooky Nights customers.
.: Entrance Hall
On entering the Galleries of Justice you are faced with the great Entrance Hall, this area is said to be haunted by four ghosts, three of which are seen on many occasions by staff and visitors. There is a Victoria gentleman, a soldier and a lady seen wearing a long gown. The fourth ghost or spirit seems to be responsible for many of the cold spots that are felt in a particular area, even to the point that monitoring equipment  has been installed to capture any changes in temperature. This spirit is of a little girl who is said to have visited the courts with her father who worked as a court official. She is said to been seen on the stairs and also playing in the Grand Jury room.

.: The Courtroom
The largest of the two courts rooms being the criminal courts is said to be very active. So many people have heard knocking sounds, groans, footsteps and on the odd occasion have heard the sound of a gabble being used. There has also been the smell of rotting corpses from around the large table used by the Clerks of the Court. This table is said to have been used to lay out the bodies of the convicted convicts who had been executed and placed there as an example to others. The viewer's gallery also holds some mysteries; people have seen many dark shapes walking around and even caught many strange anomalies while filming with video cameras.
.: Cells and Cell Corridor
In the cell corridor there have been many reports of unexplained noises, heavy footsteps and cell doors slamming shut. People have also seen what is believed to be a prison guard; this could explain the sounds of  keys jangling and footsteps. Also there have been reports of light anomalies that float in front of people and then disappear with no apparent explanation. The cells themselves are just as active, reports of moans, voices, unexplained smells, cold spots and the noise of someone scratching the walls.  The overnight cell also leaves people feeling very depressed and a sense of uneasiness, many people leave this area and will not re-enter.
.: Laundry Room
This part of the prison is said to house the female occupants and was also used as the laundry room. There have been reports of children's cries, female voices have been heard in the dark, there have been strange smells and the doors in and out of this area have been known to slam shut. Many phenomena have also been captured on camera from small orbs to mist or smoke. Also on many occasion female visitors to this part of the jail have also felt a discomfort in there stomach area and some have even gone as far saying that they feel pregnant.
.: Exercise yard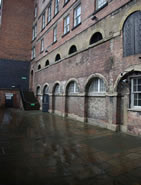 There have been many reports of sightings of full apparitions appearing and walking across the yard then disappearing out of sight. Many orbs have been picked up on camera in various colours and sizes some even showing what looks like faces in them. People also experience strange sensations which are said to be unnerving at times.
.: The Chapel
This being named so because of the shape of the cave and the way it has been carved. There have been reports of a cross being thrown, people being touched and pushed and the menacing sound of growls and disembodied voices.
.: The cave
This must be one of the most haunted locations of the Galleries, deep down in the bowls of the building there are remains of animal bones and other artifacts. Here, there is a sense of being watched, people have also been known to feel sick and dizzy. There have also been dark shadows seen walking around the cave, strange scratching sounds and stones being thrown.
No matter what occasion weather it be Christmas, Easter or Halloween, we have a ghost hunting experience that will fit your needs. Alternatively you can purchase a gift card that will allow one person access to any ghost hunt experience in the UK. Our ghost hunting events start from as little as £35.00 per person. Please visit HH & Spooky Nights for more information