.: Galleries of Justice Ghost Hunts
Due to the misery, torture and sheer despair of its residents this location can induce overwhelming emotions from all of its visitors. Execution was carried out under the most extreme conditions as was the torture and abuse of the poor wretched souls that had the misfortune of finding themselves imprisoned there.
The Galleries of Justice, Nottingham has many ghosts and apparitions and they have been seen on many occasions by visitors and staff alike. Soldiers have been seen on the steps of the main entrance hall and a lady pushing a pram as if in a trance has been witnessed on several occasions. The courtrooms themselves have produced many light anomalies and there have been sightings of people overlooking the balconies. We will have access to all of these areas including the haunted caves beneath the prison where stones are thrown at almost anybody who enters there.
The Galleries of Justice, Nottingham has been voted the number one Most Haunted location in the UK by HH & Spooky Nights customers.
.: Galleries of Justice Events
No events found in this category
.: What our guests say
Hi all, firstly I would just like to say, what a fab location for a ghost hunt. it is by far the best location I have been to, to date. Secondly i would just like to say a big thank you to Hazel & her team for making it a brilliant night, even though they asure me it was a very quiet night, by normal standards. they were very professional & worked very hard, to make sure everybody had a good time. We hope we will meet you all again some time in the future. Everyone in our team had things happen during the night, from small stones & twigs being thrown at us, foul smells & being touched in the laundry room & 2 of us even heard a big exale of breath in the night cell.
Thanks again to all involved, we will be back to the Galleries of Justice again later in the year. Wayne & Adrian.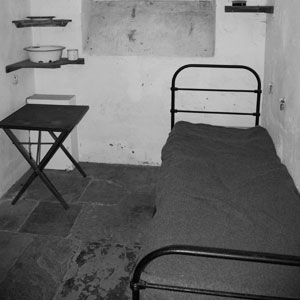 What a great night it was for us, this was the first time for us (virgins) and we were a little apprehensive, but we had the best night ever. We tagged along with a group of very game students from London, who kindly took us OLD folk under their wings. We experienced glass moving, tapping on the table, breathing and growling noises in the caves, and one poor lad even had a stone thrown at him. Some of the girls got a bit emotional, but we also had a good laugh. The court room was another active area and we experienced loud bangs from behind the judges chair, blasts of cold air, and footsteps, and even a vibrating chair. Thank you to all the members of the team and the other guests for making it both an enjoyable and very memorable night, we will definitely be attending another event. Keith and Linda Houghton
In 2003 Most Haunted visited the Shire Hall Nottingham, better known to ghost hunters across the country as The Galleries of Justice. Yvette Fielding and the team reported "sounds they would never forget" and Derek Acorah picked on up on a little boy in the exercise yard. We have also had many reports from our guests of similar experiences along with strange shapely shadows, ghostly lights and the sense of being watched. The Galleries never fails to produce ghostly activity on a regular basis and even our team members sometimes run in fear.

No matter what occasion weather it be Christmas, Easter or Halloween, we have a ghost hunting experience that will fit your needs. Alternatively you can purchase a gift card that will allow one person access to any ghost hunt experience in the UK. Our ghost hunting events start from as little as £35.00 per person. Please visit HH & Spooky Nights for more information